Prestige Self Build Homes Harpenden
Build Your Own Harpenden Home with our Expert Builders
Next Generation Construction is proud to make dreams come true with our stunning self build homes. We give you the power to realise your ideal home in Harpenden, working with you to create your perfect house that meets all your needs. We appreciate you have high expectations – the housing market might not offer what you're looking for. That's why self build homes offer the ideal solution, giving you the chance to design and build a home that's got everything you ever wanted.
Build Your Perfect Harpenden Home
Our expert builders are masters at creating self build homes that leave our customers over the moon.
We use the highest quality building materials and latest technology to ensure your self build home looks and performs brilliantly. We can install ground source heat pumps, solar panels and other modern energy efficient equipment. We ensure you get a self build home with great thermal performance, ensuring you save money on your heating bills over the long term.
We work closely with you, meeting your expectations, budgets and timeframes. We strive to deliver your new home on time and within budget.
Our Service Guarantee
Here at Next Generation Construction, we put our customers first. That means we value your needs and concerns in every action we take. Our goal is to create the most beautiful, high performing self build homes that align with your vision. Our builders work to ensure the highest degree of durability, ensuring your home performs for decades to come without costly repairs or maintenance work. We build fully weatherproof homes that perform in all seasons.
All work is carried out at your convenience to suit your needs – our reputation is built on quality and trust – without them, we are nothing.
We're there for you at every step of your self build journey, listening to you and ensuring all work is carried out to your specifications.
Honest Communication: We present all information in a transparent and easy to understand way.
Regular Contact: We're always available to take your call and listen to what you have to say. You'll stay updated throughout the build – no matter what.
Total Respect: Our builders treat your home with the utmost respect and care.
Quality Design & Build: We work with distinguished architects and designers to ensure you get a dream home that performs and looks simply stunning.
Plant Machinery: Our plant machinery belongs to us, meaning we have lower costs and pass on the savings to you.
Quotations: We give you detailed quotes, so you know exactly how your self build home is costed, helping you make the best informed decisions.
Building Control & Regulations: We take the stress and hassle out of the planning process, taking care of planning permission and any building regulations. You won't have to sweat the small stuff, giving you the freedom to focus on how your dream self build home looks and functions.
Payment Terms: We can take payments in stages, handing you greater control and convenience over your finances. We only take the final 20% of your total payment once you're completely happy with your completed Harpenden home.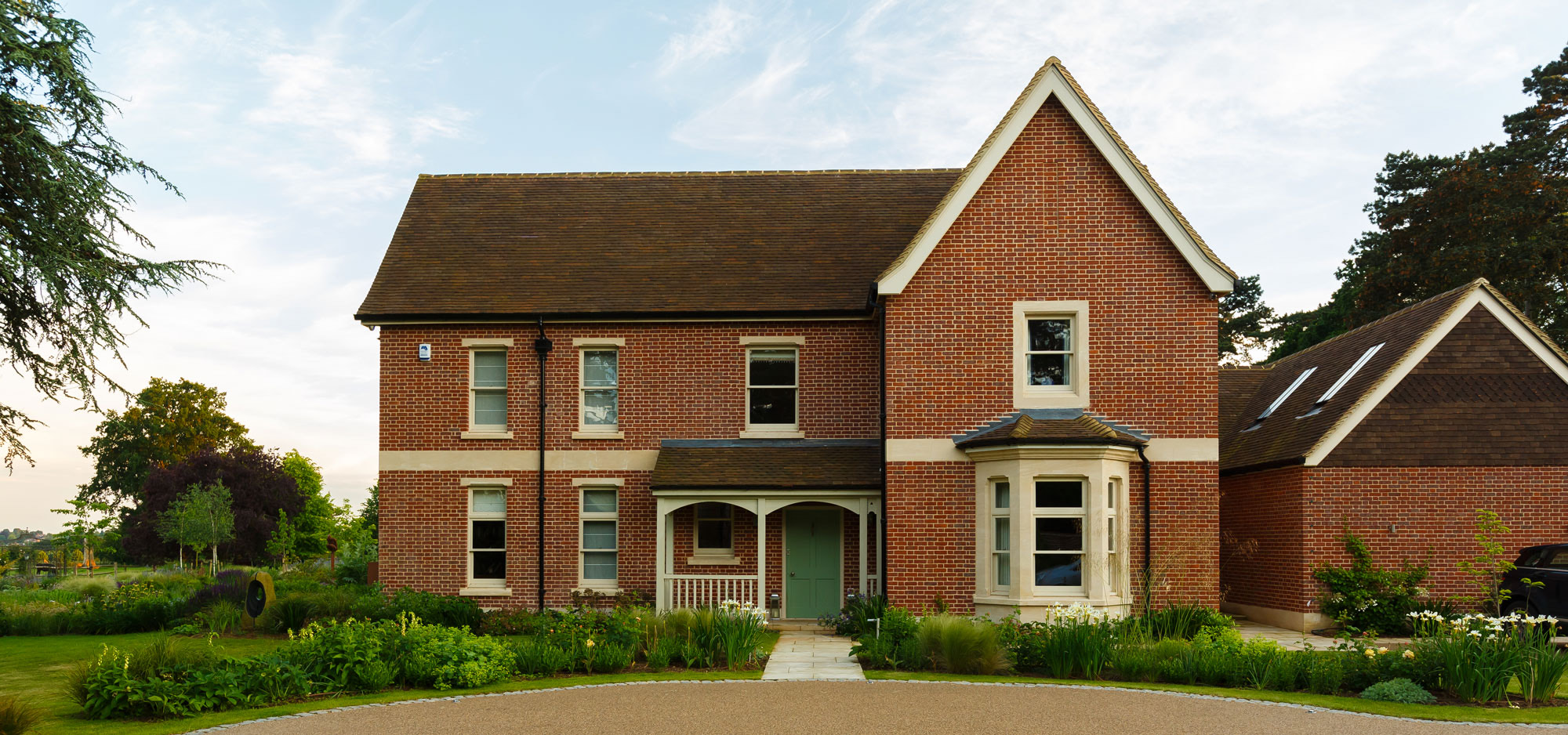 Reputation Built On Customer Satisfaction
We're only as good as our last job. That's why we take every measure to ensure we complete self build homes that meet our customers' needs and expectations. We set ourselves the highest standards in all we do – we're dedicated to creating the most beautiful self build homes on the market. Don't just take our word for it; see how our previous customers have rated us on Checkatrade, where we rank highly for customer approval.
Our Team
We hire only the most qualified professional builders committed to every aspect of the job. They go above and beyond to ensure you're completely happy with your new self build home. You're not just investing in a self build home with us; you're getting a dedicated team that's there for you every step of the way. Your self build home is only finished when you're happy with every inch of it – our team accepts nothing less than perfection.
Self Build Homes Harpenden Prices
All self build homes are unique. That's why it's best to contact us for a quote that's specified to your design and needs. We build premium self build homes with high end designs and materials – at cost effective prices. We offer dream homes that are within reach, matching your exact vision. There's nothing quite like it on the market, because our self build homes are designed for and made by you.